Now that Christmas is around the corner we have found ourselves in the same position! We need for neighbors to feel the spirit as we enter a memorable holiday season at the same time have the best decorations in the neighborhood!
1.
Christmas Inflatable Gingerbread Man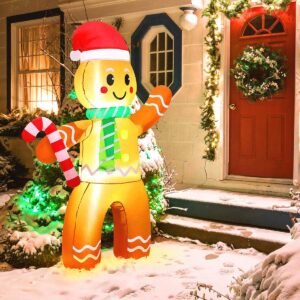 Having this Gingerbread Man Inflatable is not only an attraction to your outer home but brings a mood when it comes to baking, movies, and instant photography!
2.
Christmas Balloon Kit Decoration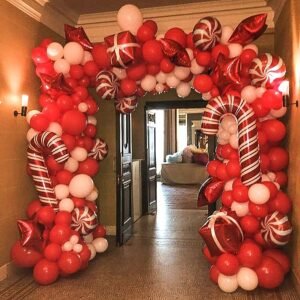 Perfect for any special occasion in the middle of the best holiday season would be decorating it with this "Christmas Party Decoration Set" packed with candy canes, red-white balloons, gift boxes, and more!
3.
Inflated LED Santa Slay and Reindeers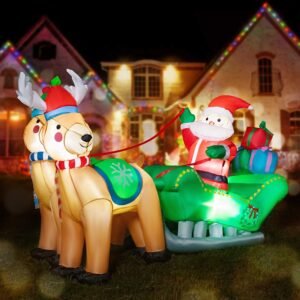 Finally, neighbors get the opportunity to see for themselves that Santa, His Slay & Reindeers stopped at your home for those milk and cookies left on the table!
4.

Twerking Santa Claus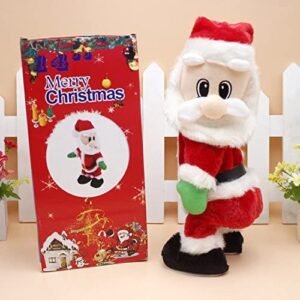 This "Twerking Santa Claus" toy is beyond hilarious! Not quite sure if he learned that from Misses Claus or from kids who should be on the naughty list!
5.
Snowflake Waffle Maker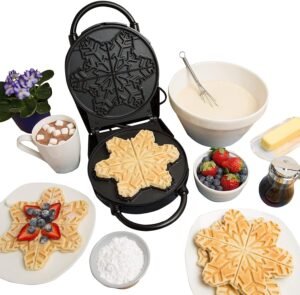 This Snowflake Waffle Maker is creative for breakfast meals in the seasonal holidays like Christmas or Valentine and even cold conditions. It can be the first time making snowflakes and waffles at the same time and be a great team experience!
6.
7ft Weatherproof Blow-up Snowman
Easy to assemble is this Huge 7ft Inflatable Snowman that stands out at a distance! It comes with a detailed hat with "Joy" labeled as a heart, a scarf, carrot nose, mittens, and even three button-ups!
7.
Set of Two Small LED Fairy Trees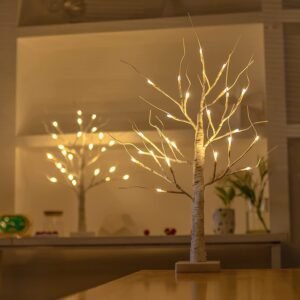 Not only are these Flexible Twig trees designed for indoor and outdoor occasions, but they are perfect when it comes to holiday home decorations. They are cordless LED battery-powered Twig Trees, and they do a good job of making a first impression!
8.
Snowman Porch Light Covers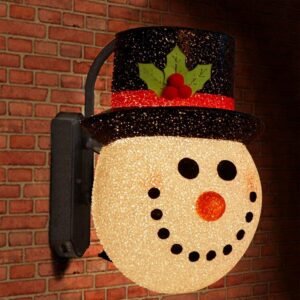 Snowman holiday porch lights aren't something you see too often! But they are here, and what makes these unique is that they fit on almost any set of home exterior lights while smiling as spectators pass by cheerfully!
9.
LED Lighted Gift Boxes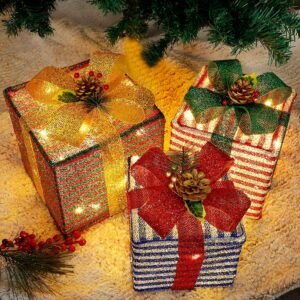 Shining, Shimmering, and Stylish are words to describe this set of three gift boxes, which require a wall port for indoor or outdoor use. Also, they come with striped patterns to flow with a nicely decorated tree.
10.
Outdoor Star Light Christmas Tree
Installed with eight modes is this New York-style themed Christmas Tree, with a bright star that needs to be placed at the top! This LED Star Light edition even comes with an automatic timer set as well as different speeds!
11.
Gold Exquisite Ornaments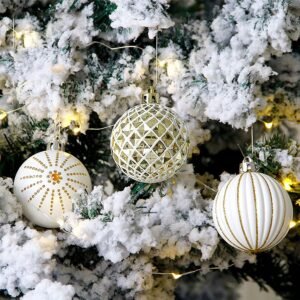 Here are Gold and White Elegant Ornaments used to decorate and brighten any tree or white-style occasions like Christmas or Wedding events! Not to mention this 30 piece set is also shatter-proof with more attractions waiting to be seen!
12.
Snowflake String Lights
Here is your chance to bring these LED Snowflake Star Lights into any room or home yard that can use some glowing holiday spirit. It can go in your bedroom, office space, chimney, and more! Also, its design is waterproof for outdoor weather conditions!
13.
Meteor Shower Falling Rain Lights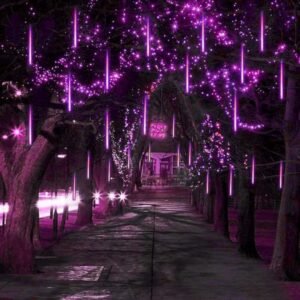 Something you don't see too often would be these Meteor Shower Falling Raining Lights! They come with several different brightness levels to pick from and are perfect for parks, gardens, holiday moods, trees, fences, and more!
14.
Christmas Net Lights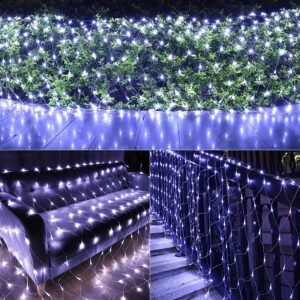 Installed with eight modes and memory functions, these Christmas Net Lights help leave every part of your home lit with bright lights while remaining safe to use! This set is waterproof and has a chip to remember your favorite styles!
15.
Snowman and Penguins Christmas Decoration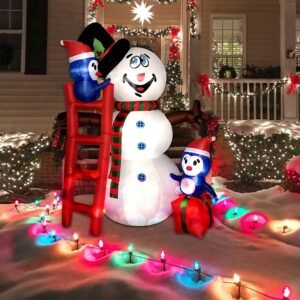 Here is an inflatable 6ft Santa Snowman with his Penguins that glisten with LED lights. It even comes with a ladder to display that the penguin is telling Santa who has been good this year and the other penguin occupying the gift!
16.
Eight Mode LED Elegant Christmas Lights
Perfect for the party or holiday season occasion would be these Eight-Mode Fairy String Lights! They are multi-colored, making them glamourous and inspiring those who just want to see splendid lights!
17.
Cutest Hanging Christmas Stockings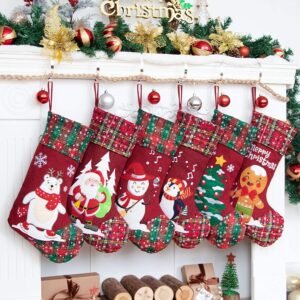 On the tree or right above the chimney is a great place to put these unique high-quality knitted ornament stockings! They come with a total of six colorful stockings that could use some good stuffing!
18.
Hanging Santa Claus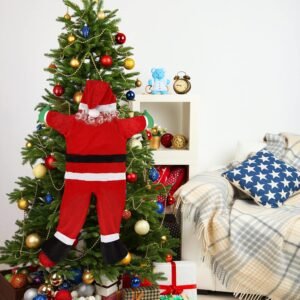 Someone who is having a bad day will easily crack a smile after seeing this Hanging Santa Claus holding on for dear life! Where's Rudolf the Red Nose Reindeer when you need him!
19.
Pre-lit Holiday Christmas Set
This great Christmas Decor Combination Set features two-doorway tree lights, a garland, and a wreath. Another bonus that this set has is that everything has lighting attached, which is the most important reason when it comes to decorating!
20.
Twinkle Star Lights
These specific Twinkle Star Lights are the best but for several reasons. It has nine modes installed with your best lighting combinations to pick from, an on-off timer switch, and most importantly since its the holiday season and a lot of energy will be consumed, this specific product actually saves energy having a long battery life span!
21.
Christmas Musical Snow Globe Lantern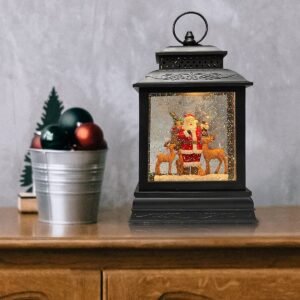 Here is a moment to listen to Santa Claus and his Reindeers sing their opera on the famous holiday of Christmas with this Musical Snow Globe Lantern! As they sang, there is a lot happening in motion inside the globe as they perform a show to receive a cheery applause from the audience!
22.
Grinch Car Buddy
Perfect for indoor and outdoor usage would be The Grinch himself as he joins along with that same diabolical facial expression he always has! 
PSA…Hide all of your gifts!
23.
Christmas Tree Faux Fur Plush Skirt
This Warm Faux Fur Skirt fits perfectly for creating great stability for the Christmas tree! It offers a quick set-up, fall prevention, and has a smooth balance for blending in with other gorgeous home decorations!
24.
Christmas Elf Stuffed Legs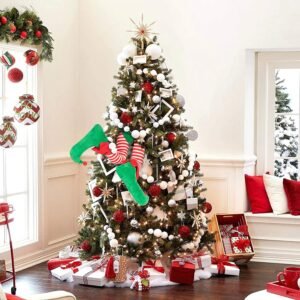 Remember that Christmas is about humor, fun, and laughs. But, what better would it be than to have a party and see these Elf Stuffed Legs stuck in a place they don't belong!
25.
Four Grinch Throw Pillows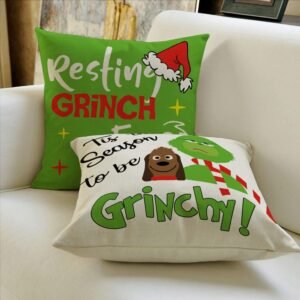 The only time you should be caught laid up with The Grinch is when you are using this set of four Grinch Pillows! Its soft cushion is high quality making it machine washable and enjoyable, especially when guess gets the chance to cuddle!
26.
Santa Hat Chair Covers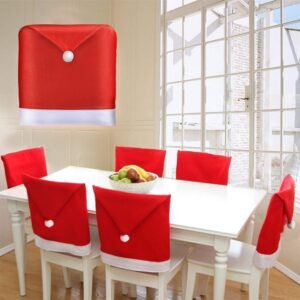 On such a special appearance for Christmas, these Santa Hat Seat Covers would fit the mood as family and friends take seats at the holiday event! The six-pack collection of hats fits almost any set of dining room chairs and is even designed with soft cotton fabric!
27.
The Grinch Inflatable Naughty List
The Grinch here is an easy-to-use inflatable that lets the neighbors know who unfortunately did not qualify as of being on the nice list! 
28.
Candy Cane Path Lights
Create a custom-designed travel guide with these walkway Sugar Cane Path Lights! They even come with eight modes to pick from when lit and are necessary for those who are irresistible to treating themselves to a delicious candy cane!
29.
Santa Hugger Tree Topper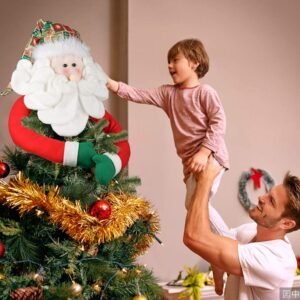 For those of us who inspire to be different, unlike the usual famous trend with the star placed on top of the Xmas tree, we have Santa who's hugging and giving the tree a unique, creative, and touchy feeling!
30.
Warm Grinch Throw Blanket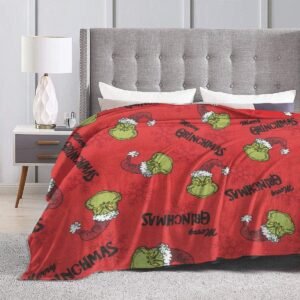 The last person you'd find yourself being snuggled with, especially around this time of year, is The Grinch! This throw blanket has him all over, and the most unbelievable part is that it's actually cuddly!
31.
Colorful Pathway Solar Light
As we decorate for this Christmas, let's make it bright and beautiful with these Colorful Pathway Lights that give a gorgeous guide, and that can even be used without it being the holidays!
32.
Tree Set with Ornaments for Kids
A Christmas tree where the children can actually reach and design their own changes the game. This tree set even comes with ornaments so it gives children time to do a crafty, independent, and fun task!