This blog was created with hoping to pass helpful information to everyone who don't know what actions to take if things turn out bad! But, we're here to show that the first step is preparedness and that can take you far and last until more support comes along! It's important that we get organized for what may occur with all that's going on with the world, so enjoy these product ideas and stay safe in 2022!
1. Ball Compass and Thermometer

With this fine piece of technology, this Ball Compass and Thermometer is designed successfully with precision and accuracy to land you exactly at your destination. It comes with a hook, so it's not easy to lose, and the design of aluminum.
2.
Featherweight Signal Mirror

If you find yourself in a desperate situation, for example, while going hiking and it's an emergency pilot flying above, using this signal mirror will definitely do a good job of gathering their awareness, causing them to come down to rescue you.
3.
Emergency Whistles with Lanyard

Due to the circumstance, one may find that a whistle is one item that every survivalist will need in desperate measures! It quickly gains attention coming from the area it was alerted in and even comes with an installed durable clip for fast access and organization!
4. Multi-Purpose Waterproof Tarp

Having a tarp is almost essential because it protects the conditions materials are left in like, rainy outdoor areas! With this tarp and its size options, it could be used to cover tangible items like boats, used for fire logs, and used as a waterproof shield to keep storage areas dry!
5. Assorted Safety Pins

It's crazy how something so small can seem so irrelevant during survival mode! But, something like a safety pin, for example, could keep something from falling apart to bringing it back closer together. This set being the best option comes with 300 pins and five different sizes.
6. Emergency Blankets & Rain Poncho

What differentiates this Poncho from the rest is that it's 2x thicker, which means it can sustain more rain and wind! Its multi-purpose usage comes with a heat reflector, sort of like a signal mirror, and is described as spacious!
7. Trail Hiking Set

What makes this Trail Hiking kit special is that it can be used in every season out of the year! All the gadgets that come in this set are lightweight, so that makes reaching the destination easier, and of course, the trail poles are made for all soil types!
8.
Camping Cookware Set

When cooking in survival situations, you at some point wish you had the resources you have at home. But, having this Camping Cooking Set is a benefit because it allows you to have the materials necessary for enjoying a captured meal, and it is lightweight as well. Also, another feature this set has is that it even comes with a fire starter, so it just got even easier!
9.
All-in-One Fishing Kit

This Telescopic Fishing Rod & Accessories Kit is the perfect package for collecting fish or other sea creatures that can be captured for a full belly. It has more than enough tools to get the job done and is also designed out of aluminum for long-lasting use!
10. Four Person Family Tent

If you've found yourself looking for a water-resistant, lightweight, and easily constructible tent, then you've found it. This specific one is all the better as it fits a family of 4 people, comes with double-layer windows, and is described as spacious!
11.
Long Range Waterproof Walkie Talkies

Including such a great perk, these long-range walkies talkies do a great job of communicating to others across 22 channels and even have the ability to work under the influence of water damage. Also, with today's antennas existing almost everywhere, these Retevis RT27 walkie-talkies cover a wide range of distance!
12.
Worst-Case Scenario Survival Handbook

Surviving in this era happens because of the amount of valuable information we have built over the years! Especially when choosing a career! With times like these, when survival is necessary, this book gives you endless amounts of information on what you can do to survive when looking for those resources and needing to substitute tools, for example, like making a fire.
13.
Craftsman Tool Kit

An amazing 57 Tool Piece Set is necessary for constructing and building in survival moments. It allows the process to be much simpler because you're relying on tools that can apply more accuracy and have a better grip, as opposed to, using a rock which might create self-damage!
14. Outdoor Fire Starter

Fire is essential when it comes to living in the outdoor world. So, here is a 100% guaranteed fire starter to help cross that off your list to make it safe for especially consuming and cooking food and body warmth!
15. Tactical Survival Gear
Protecting your supplies is important for those who plan on scavenging your resources. So, to bite the odds here is a 22-in-1 Survival Kit that does a good job of keeping predators away from all goods in stock that needs protecting!
16. Survivalist Gear Package

With this 72-hour sustainability kit, it comes with enough supplies to last you until more help comes along the way! What makes this specific one great is that it is easy to read, just in case children may have to assist you, and is nicely organized!
17. LifeStraw Water Filter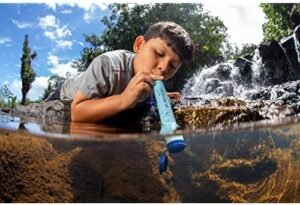 Tested behind advanced technology, this LifeStraw is another must-have that is 100% necessary in any survival situation. Just in case there are days/weeks with no rain here is this "lifeStraw" that allows you to drink straight from the river as it purifies and kills 99.99% of bacteria and parasites!
18. Waterproof Outdoor Lighter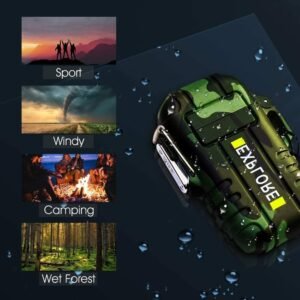 Talking about advanced this Waterproof Outdoor Lighter is flameless, eco-friendly, and ready to get any humans through when it comes to getting that fire started! What makes it unique is that it's reusable by charging it by its USB port and even its windproof shield!
19. Infrared Night Vision Goggles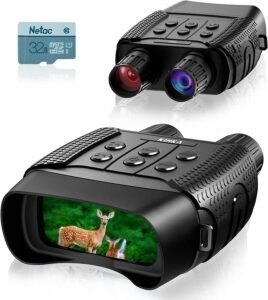 Made to see specifically for nighttime, are these Digital Infrared Goggles! Waterproof, of course, since they are going to be used outdoors, clear vision and high technique performance are some of the best perks these goggles obtain to make them the best choice!
20. Weather Resistant
Camping Lantern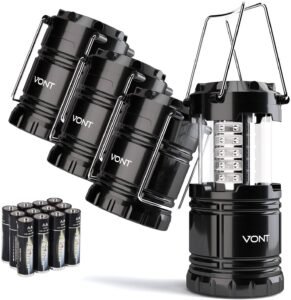 Collapsible and compact ready, these camping lanterns are ready to go and keep you feeling safe with the ability to see at nighttime! A special feature this product offers is its weather-resistant performance and the fact that it comes with four lanterns powered by AA batteries!
21.
Vegetable Seeds Garden Kit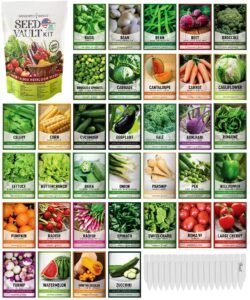 Knowing how to Garden should be essential when it comes to survival mode because you have to EAT TO SURVIVE! So here is a bundle pack of healthy vegetables to eat, and like they always say, the sooner you start, the better!
22.
Strike On Box Matches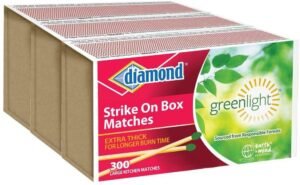 Everyone knows you can't go wrong with matches in desperate situations, and also, the more prepared you are, the better. So here are three boxes of three hundred matches to keep the flames going for when it becomes vital!