Nothing feels better than knowing that your dog the most loyal and loving animal on this planet has everything he or she needs to understand that we as humans spoil the things we love!  So here are 36 of The Best Dog Gifts our 4 legged friends could ask for if they spoke English!
1. Homemade Dog Bone Treat Maker

Reasons to go natural are always good, especially when it comes to the health of our pets! Now would be an even better time to do so using this Dog Bone Treat Maker! It is very easy to clean and store away when snack time is over and saves money at the end!
2. Cozy Pet Bed Cushion

If you find yourself always wondering where your best friend is getting into next best belief with this snuggly floor sofa, you'll always know where they're at. It serves pets a great purpose by giving them a comfortable place in the room to escape rough floor surfaces and having hard stiff bones. Another great thing is that this Cozy bed for pets fits even big, medium, and small size dogs!
3. Automatic Treat Dispenser for Pets

What a time to be alive to see an automatic Treat Dispenser for those of us who are physically incapable to keep up with hyper pets or out at work! Now we have the opportunity to do so using our phone and not to mention we can even communicate with its built-in 2-way audio system!
4. Staircase for Puppies

It just got better because now we can have our pets, especially puppies come up and down from sofas without the need of our assistance! So after a long day of work that needs lazy time, our pets could join us when necessary! Also, our cuddle buddies would even be able to come to get warm under us as it may get too cold and for an extra bonus, it comes with a chew toy which can be the prize for heading to the top!
5. Cute Comfy Puppy Harness

Now, I am sure we can agree that our pets feel great on a walk with a new leech. Not only that, but they also will look good in this specific one that gives that designer brand flow. But not only does it look good, but it's designed with 100% polyester, which does well for longer walks, produces airflow, and washes like a charm.
6. NFL Hoodie Tees for Dogs

Now you and your best friend can embrace your favorite team on game day by rocking the jersey of your favorite NFL Sports Team and show out at events with this Sports Hoodie Tee for Small Dogs.
7. Dog Bark Prevention Collar

If your puppy has severe barking problems, then you'll find this Dog Bark Prevention Collar the safest and quickest way to control it and put it to an end! What makes it better is that it even fits small, medium, and large dogs with a variety of collar sizes!
8. Birthday Banners for Dogs

Hook up your dog's birthday party with this funny background banner that quotes, "IT'S MY BDAY MOTHERPUPPERS"! This banner is even more special for pets who are adopted and may need a day to be glorified for their own little doggy world!
9. Warm Pullover for Puppies

Great use for nighttime and those who have a hard time seeing this bright green pullover for pups allows them to be seen especially for night walks and protects them in cold climate temperatures!
10. Huge Dog Tennis Ball

Big dogs come with big toys, which explains why this Huge Tennis Ball would be useful for fun activities! It even comes with an inflated needle for adding more air to where fun exists!
11. Cuban Link Dog Collar

A common thing for us as humans to do when we love someone is having them shining even ever since the stone age! So that's why this Cuban Link Dog Collar is here, as we have the option to keep our dogs shining, especially at the dog park!
12. Dog Portable Water and Food Dispenser

Great for on-the-go trips like hiking and other adventures would be having this portable food and water dispenser for our pets! It makes it a plus to know that both are accessible when necessary, especially given that the trip may be a long way to the top!
13. Doobie for Dogs Toy

Now, this chew toy is one that'll make strangers' day as they come to the conclusion and realize that your dog has brought its' own doobie to the party! Also, it's very unique and even squeaks which is more engaging when it comes to dogs toys!
14. Mess Free Dog Bowls

Having this dog bowl not only creates a mess-free environment but saves money on dog food in the long run! By food staying in the dog tray for consumption, pets will be able to get all the energy they need to get through the day, which consists of plenty running, barking, and more!
15. Creative Pet Name Tags

Finally, pet tags that don't cling are here and are even better because they don't destroy the peace of you or awake other animals! These name tags come with enough space to put the pet's name, address, and two emergency contact numbers so our furry friends can be returned back home!
16. Faux Leather Pet Sofa

It's recommended that when it comes to pets and their furniture, it is best to pick ones that provide a good stretch, especially after a good meal! Another great reason why this upholstered sofa is a great fit is that it allows them to sleep on their sides, supporting great body functionality while remaining leather fancy.
17. All Dogs Tug Kit & Puppies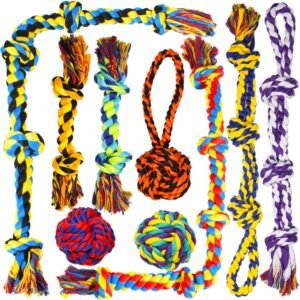 It's important to give our pets tug toys because not only will they not have something else forward to tearing apart than besides our tv chords, but when we are maybe too tired from work and other responsibilities the fun doesn't stop for them!
18. Six Funny Fetch Balls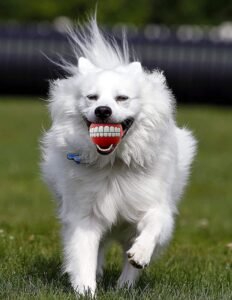 Give your four-legged best friend another reason to wag its' tail and a new smile with this gift of Six Funny Smile Fetch Balls! It's hilarious to see your dog run around with a fetch ball that smiles ear to ear, and it even helps keep separation from other dogs' toys when out in public like dog parks!
19. Laser Engraved Cubes for Pets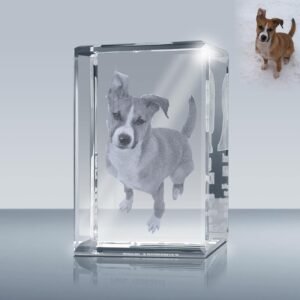 This Laser Engraved Memory Hexahedron would be a great gift idea for anyone who may have unfortunately lost their dog "aka" best friend recently or in the past and could use this to memorialize their pet!
20.
Home Decor Box Sign for Dogs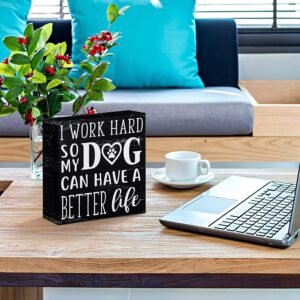 Perfect for home and office decorations, this sign is for dog lovers and reminds us why a house is complete by embracing the relationship between a human and a dog where loyalty exists!
21.
Dog Biscuits Tin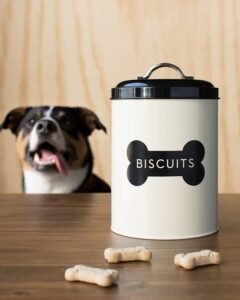 A great way to remember that your dog needs more treats is by keeping a Dog Biscuit Tin Jar insight. That explains why this particular one makes the best fit because pets will not only know what snack time means, but it will get them to understand commands! Also, it will even make for a great home decor presence!
22.
Pet Hair Vacuum Cleaner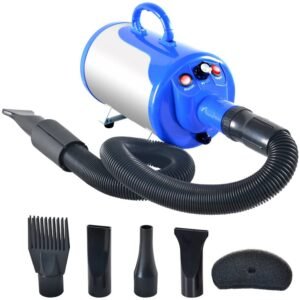 Now with pets come with jaw-dropping messes, so it's important that having two different vacuum cleaners are relevant! One major reason includes that when it's time to clean pet hair, hairs get stuck in between the bristles of the vacuum making it harder for a regular house clean. Another problem would be that the area to be cleaned will either have a bad scent or items won't be picked up by the suction of the vacuum at all!