Here We Are Taking Pranking Friends To A Whole Other Level! What You Can Expect The End Results To Be Like Are Tears Shed, Scary Shocking Moments, and More! Also, Expect To See Some Gadgets You Have Never Seen Before and Some Tools That'll Leave The Match A Blowout!
1. Fake Bomb Clock

Made out of cardboard paper rolls, this Fake Bomb Clock will surprise the nerves of the person who will see this successful pranking tool! What makes it even better is that the time clock is accurate and its detailed realistic features displayed!
2.
Electric Shock Pens

Designed with high-quality plastic, this Electric Shocking Pen will leave someone with a rare experience every time they touch a pen! It still operates as a regular pen, which is a bonus, and if you unscrew the middle of the, it works just fine!
3.
Fake Pregnancy Test

Here we have four artificial pregnancy tests that reveal that someone is to be having a child coming soon! To get it working is done by just putting the tip of the tester in tap water and exposing the truth to either family members or friends!
4.
Fake Bird Poop for Cars

This Fake Bird Poop prank is described as real as it gets! This prank is hilarious and perfect for someone obsessed with their car and could use an emotional experience for April Fools Month!
5. Fake Realistic Poop

If you plan on hearing very loud and dramatic screams, then your best bet is to go with this Realistic Human Poop! With its color and shape, this prank is the best one to go with.., including all its creativity! With it, you can be clever by putting it in different locations like the bathroom, bedroom, floor, and anywhere else you find a good idea!
6. Realistic Toy Donuts

For someone in the mood for sweets, day will soon be spoiled when they learn that these Scented Donuts are fake! It comes with six flavored-styled artificial donuts that present typical sweets for celebrations like birthdays, house parties, Sweet 16s, and more!
7. Total Package Prank Set 

Now we had to offer the bundle pack, and this one includes Fake Parking & Lottery Tickets, Voice-Activated Stickers, Outlet Sticker Decals, and Funny Envelopes to question what else the year may have to offer! So, you will be able to have a good variety of options on what should cause our victim a little dizziness!
8. Non-Tearable Toilet Paper

This Non-Tearable Toilet Paper is as frustrating as it gets! How funny will it be to hear the struggle as someone uses all their strength to tear the toilet paper up, to get the job done, and question if they are dreaming or not!
9.
3D Mouse Hole Vinyl

If we're talking about pranks, you know a mouse has to be involved! So here we are suggesting Four Mice in a Hole Decal Stickers that have options to be placed in different locations in a home! Also, the best part is-is that it has 3D effects for realistic features!
10. One-Hundred Twenty Fake Flies

It's that season again where flies are taking over, but here is a total of 120 of them up close and personal! As real as it gets, these flies are made of high-quality plastic, which makes them safe to be reused, and touched! Also, they are highly recommended around food to get the best pranking experience!
11. Fake $100 with Zebra Prank

This hilarious $100 bill prank is equipped with a zebra sound that laughs out loud when it is pulled or picked up from its trap! It is best for slipping it under items like laptops, keyboards, carpets, and more!
12.
Fake Parking Tickets Prank

If you have a friend who continuously parks, however, and whenever they want, then best believe this Fake Parking Ticket would teach them a lesson! As a result, they will learn they just received an expensive illegal parking slip that comes back to a shocking $250 ticket!
13.
Wrong-Way
Push and Pull Door Stickers

These Wrong-Way Push and Pull Stickers are another great prank if you intend on seeing someone grow grey hairs! This idea fits perfectly, as in pranking that person we have, especially at work, who can't seem to give us a break!
14. Fake Million Dollar Scratch-Off

Someone who would spend their last on a lottery ticket will have their enjoyable moment spoiled when they find out that this scratch-off is a Realistic Fake Lottery Ticket! What they'll think they just won is $1,000,000, but on the flip side, they just won is a temporary adrenaline rush!
15. 1000+ Wiggle Googly Eyes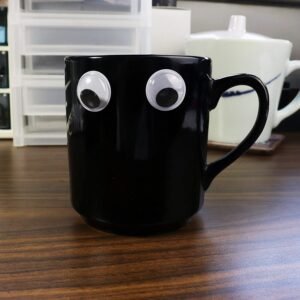 Those who would do anything but watch a scary movie most likely would not enjoy seeing these Wiggly Googly eyes! There are eight different sizes and multiple color options for more creativity and scare as the eyes follow them everywhere!
16. Snake In A Can Prank

If you have someone who consistently devours your snacks while you're not looking, then shock the last breath out of them as a realistic snake pops out of this chip can! With its design, it is reusable, and most importantly, they will think twice before enjoying your snacks again!
17.
Liquid Ass Spray Prank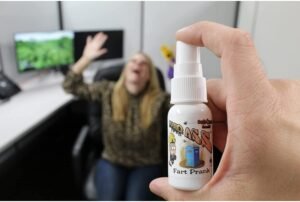 If you're looking to frown some faces and clear the room, then best believe this Fart Spray will get the job done! It's recommended for putting an end to parties, using against annoying family members, and the one who consistently wants you around at the wrong time!
18.
Whoopee Cushion Fart Prank Set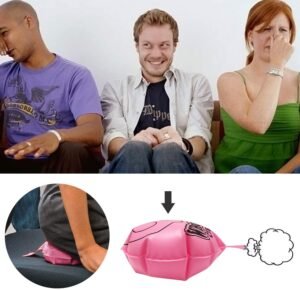 This one has been used for generations, and that's the Old Fashion Whoopee Cushion! As embarrassing as the prank is, you get to watch it all come together as you watch the victim sit down seconds away from humiliation! For the best results, you should place the cushion in a public area for a head down and an unexplainable excuse!
19. Surprise
Magic Flying Butterflies
One of the most creative pranks by far, and could be used for gift surprises are these Flying Magical Butterflies! It is ranked high on Amazon ratings, and it proves itself well as a working magically appearing prank or gift set!
20. Broken Glass Tennis Ball Vinyl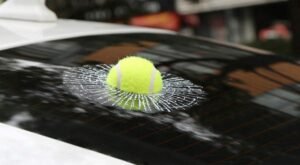 This Broken Glass Tennis Ball Vinyl has what it takes to make someone who is "married" to their vehicle and puts it in first place over everything melt! It is easy to install and remove without damaging tint or glass!
21.
Prank Fake Roaches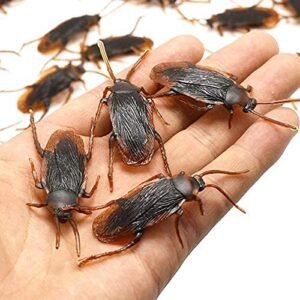 Not many people can handle seeing roaches, which is understandable! That's why these creepy creatures make a great prank! They are as real as it gets and recommended to be around people who are especially neat freaks for the best experience!
22.
Nail Through Finger Prank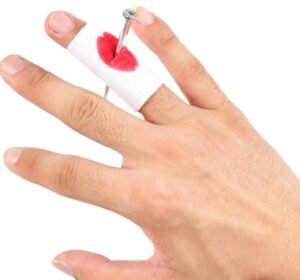 It is almost impossible to tell that this Nail Through Finger Prank is unreal! It's just the type of prank one needs, especially if they have a weak stomach and can't handle seeing blood.., let alone a nail through a finger!