This Cinco De Mayo Here In 2022 We Have To Do It Big! As We Have Been Restrained From Parties Due To Covid, We Have To Make Sure We Make This Party Event One To Remember! Below You Can Expect To See Decorations That Puts Everyone In The Mood For The Holiday Spirit And Options That You Didn't Know Exist!
1.
Cinco De Mayo Inflatable Cactus

This self-inflatable Cinco De Mayo decoration is a detailed cactus that comes with a sombrero and a well-propped guitar! It also comes with stakes and other materials to secure it on a breezy day, not to mention, it even has disco lights to turn up the party and make it a more eventful celebration!
2.
Mexican Table Runners

Here is a four-pack of table runners with different mixtures, including red and blue, to fit the Mexican theme and blend in to honor this holiday. It makes a great home decoration and can be used all year round to show true heritage!
3.
Small Taco Pinata

For an event like Cinco De Mayo, it is necessary to have a piñata there! Especially for the kids, this one is a perfect size for children and adults to use. Their energy in whacking it down for a prize will exert a huge adrenaline rush 100% guaranteed!
4. Pinata & Sombrero LED Indoor String Lights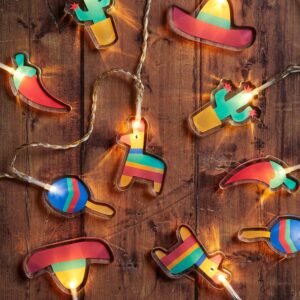 Built with a six-hour timer function, these Indoor Piñata and Sombrero lights bring light to the party! It has ten warm LED lights and a feeling many described as eventful yet inspiring!
5.
Fiesta Party Metallic Tattoos

We have the best Metallic Tattoos for this type of event, with so many different options to choose from! With these tattoos, you get the chance to support this eventful affair and show what you are all about! The best part about this is it's 100% painless, safe for the skin, easy to apply, and long-lasting!
6. Fiesta Party Eyeglasses

This fiesta 12-piece set of glasses makes the event even more pleasurable as you have options to dress according to the festival! All 12 glasses are unique in their own way, yet come in different styles that match with what the celebration is all about! So you can expect to see guitars, sombreros, tacos, piñatas, and much more!
7.
LED Cactus Night Light

Perfect for any room in the home, this LED Cactus Night Light creates a different but positive vibe with its bright glow. It's powered by 2 x AA batteries to begin its shining stage and can be used in and outdoors with dry space only!
8.
Fiesta Party Decoration Set Porch Sign

This awesome decoration banner reads "Welcome Fiesta" as family & friends enter the party and join the wonderful celebration of Cinco De Mayo! It's perfect because it matches Mexico with its creative, colorful background and the option to be used in or outdoors!
9. Taco-Bout-A-Party Banner 

For all our Taco fans, this specific banner is ideal for a night that is going to be used for devouring tacos!!!! This banner reads "Taco Bout A Party" and comes with some great birthday and baby shower supplies! This set comes with balloons specifically; a cactus balloon, fiesta balloon, avocado balloon, paper fans and much more!
10. Multi-Colored Chili Pepper Lights

Turn the party up to the max with these Chili Pepper LED lights! What makes them perfect is that they fit the party scene with their bright colors, are used indoors and out, and take no batteries!
11. Fiesta Blow-Up LED Inflatable

Welcome the neighbors with a warm opening using this inflatable blowup that reads "Fiesta" with a Chili Pepper and Cactus on each side! Having a Cactus and Chili Pepper shows its strong support for this holiday while making it an excellent attraction at the same time!
12. 50-Piece Cinco De Mayo Set

Now it's only right we recommend this set which comes with more options, but for a better price. Decorate your entire area with this 50-piece set that can be used for Baby Showers, Mexican Events, Festivals, Weddings, Birthdays, and More!
13. Home Taco Tray Holders

Especially for taco lovers, these Taco Tray stands are 100% Satisfactory Guaranteed (speaking from experience)! It comes with a set of four as they are reversible with the option to hold two or three tacos at once. It even can be used for personal chef equipment!
14. Six-Serapes & Hats for Bottles

It doesn't get any better than this Set of Six Serapes for Bottles! They come with the perfect appearance to make it clear they are for the main event and to have a good time. Also, they are all unique, so each one has a specific person it'll belong to!
15. Creative Fiesta
Gnome Decor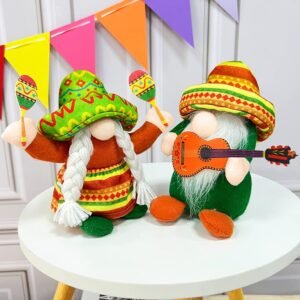 Gnomes always come through to make an appearance, and this time they came through to party on Cinco De Mayo! They made sure to dress for the occasion, which comes with a sombrero, guitar, and fancy colors to support Mexico!
16. Corona Beer Bottle & Lime LED Lights

Not your typical LED lights, but they are Corona Extra bottles with Limes as decorations! They have great spacing, high quality, are used for indoor and outdoor purposes, and are a perfect gift idea for any Corona Extra Fan!