Alright, it's 2022 and we can agree things are already quite scary. So here we bring forth the cherry on top by introducing the Scariest Halloween Decorations Blog to end the year with a Memorable Neighborhood SCARE!!
1. Haunted 
Halloween Door Cover
Nothing screams disturbing more than this "Haunted Halloween Door Cover!" It comes with graphic bloody hand prints, shocking prayers for help, non entrance signs and more!
2. 
Halloween Spider Web Decor
This high-quality and super-thick Spider Web is a great way to decorate the outside and prepare for the years' scariest event! It's very versatile, so you can use it in many different places, especially since a Spider Web decoration is a must-have ornament for the season! It also comes with over 25+ spiders to spice it up even more!
3.  Dead Swinging Clown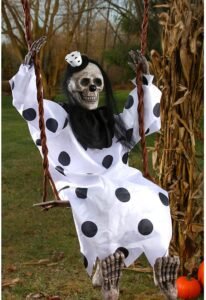 Talk about spooky, seeing this Dead Swinging Clown go back and forth is just as good as it gets! The set up is easy and comes with a black and white dotted outfit that is the perfect size to show its skeletal bones hanging out of the costume!
4. 
Lil Sweet Vengeance Doll 
Bright orange eyes that stand-out at night, this Sweet Vengeance Doll is like the name back for vengeance! It's that time of year again, so be prepared to make your new doorbell "Hollers and Screams!"
5. Creepy Haunted Doll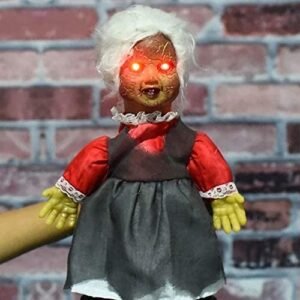 As scary as it gets, this "Creepy Haunted Doll" stands tall at 13.4″ with frightening red eyes that are mean, especially at night! It props up on its own and what makes it more suspenseful is that it is sound and motion-activated. Also, when it's activated, its eyes begin to flash, the voice makes an unpleasant sound, and it starts to walk on the ground!
6. 
Head in Laboratory Jar
Causing someone to have something close to a heart attack is probably with this "Head in Laboratory Jar!" It comes exposed in a plastic jar with a with the bottom jaw missing and even including an exhibited brain!
7. 
Lion Mane Costume for Cat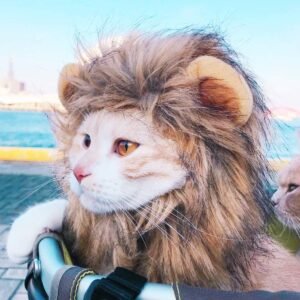 This "Lion Mane Costume for Cats" is a must-have costume, especially with those a similar fur coat! Made of high-quality breathable fabric and a resemblance so close, which is what makes it more fun! It's a perfect fit, and what makes it even better is that it adjusts according to size.
8.  Cowboy Rider Dog Costume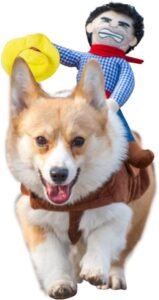 Here's your chance to bring your favorite buddy with you this Halloween with this "Cowboy Rider Dog Costume." Designed with cotton and polyester fiber, the dog won't feel necessary to pick at it, so comfortability is a must! People will definitely stare, take pictures, and smile when seeing this cute costume!
9.  Fake Giant Spider Web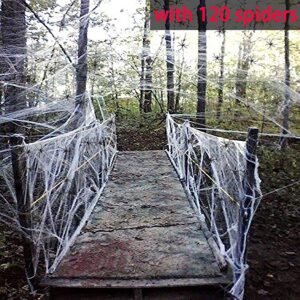 Being that it's a breezy season, this "Fake Giant Spider Web" is made thick to keep it from going all over the place and just how you like it! It comes with 100+ spiders, so you can add more than enough inside the web and still have extra for other plans!
10. Halloween Pumpkin | Ghost LED Inflatable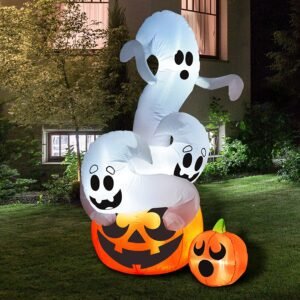 This "Outdoor Inflatable Set" is described as 100% Satisfaction Guaranteed! Seeing the ghost creep out of the pumpkin is quite scary, but its LED lights are what'll steal the show! It is also a fun activity for children to help set up and could take at the most a 5 minute set up.
 11. Glow-in-the-Dark Skeleton Cat
Described as long-lasting, this "Glow-in-the-Dark Skeleton Cat" is an inflatable that gives a ready to attack stance! It'll make your house standout miles away, and installing this on the roof seems to be the most interesting place to catch eyes!
12. Spooky Blood Trail Decorations
This will be the perfect set if your goal this year is to create suspense and raise goosebumps! Yet, there's nothing truly scarier than wondering where the blood trail leads too! This specific set comes with 20 bloody footprints, four bloody handprints, over 50+ bloodstains, and more!
13. Hanging Cocoon Corpse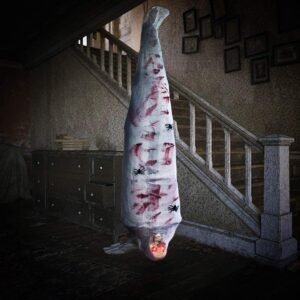 If you plan on giving someone something close to a heart attack, this "Hanging Cocoon Corpse" is probably your best bet! It features the devil's red eyes making one think that it is probably a good idea to keep a good distance. 
14. Eyeball String Lights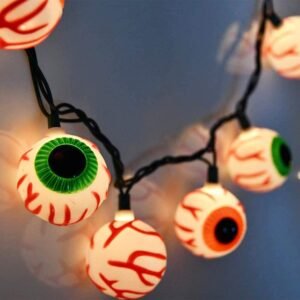 Here are ten high-quality "Eyeball String Lights" that can go either indoors or outdoors installed with weatherproof technology! They also do a good job of keeping neighbors on their toes as they walk past and see these eyes come with great detail… especially at night.
15. Zombie with Sound & Flashing Eyes

The last thing these trick or treaters will think is that this Zombie is alive! Motion-activated, this will be sure to scare the living soul out of people as they walk past and remind them the zombie apocalypse is HERE!!
16. Haunted Eyeball Doorbell
This "Haunted Eyeball Doorbell" is the total package as it is installed with a spooky sound once ranged. What makes it even better is that the eye itself motions to frighten those who dare to push it, and gives a bright gorgeous glow at night-time.
17. No Trespassing Sign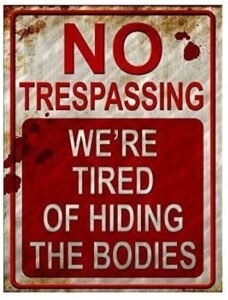 Hopefully, those who trespass understand the idea that there is a downfall to that! So maybe, just maybe, they'll proceed to there destination cautiously and follow the signs!
18. 
Giant Bloody Window Posters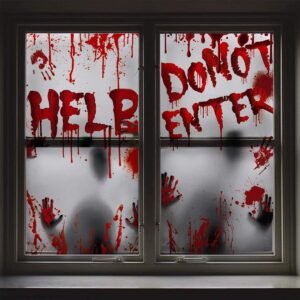 These "Bloody Window Posters" give neighbors two options: enter to help or turn your head and pretend you know just as much as a newborn and forget about it! This set comes with 3D handprints, blood, shadowy figures, as well as "Help & Do Not Enter" signs!
19. 
Tree Wrap Ghost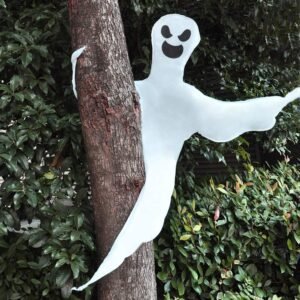 Designed with weatherproof structure, plus flexible and adjustable, this "Tree Wrap Ghost" will make someone look twice to make sure they've just seen a ghost! Whether it's a pole, tree, or pillar, this will be the perfect fit for capturing the attention of those who pass by!
20. Dead Body Halloween Decor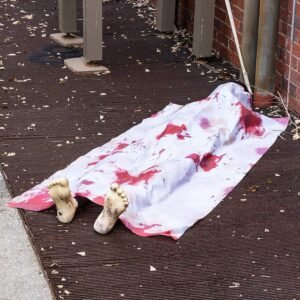 What's a haunted house without a dead body? This life-sized body figure is perfect for creating a Proceed with Caution feeling! Described as nerve-racking, it reveals nothing but the hair on the head and skeletal feet.
21. Zombie Hands Doorstop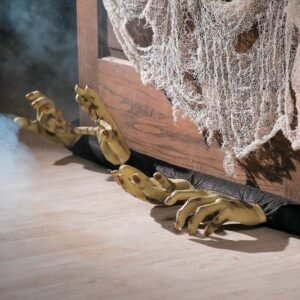 The perfect piece to scare those for the fall festivities is this "Scary Hands Doorstopper"! This Doorstopper is something trick-or-treaters look forward to seeing entering the terrifying season as they can only take a wild guess of what is on the inside.
22. Trick or Treat | It's October Witches Signs
The fabric being 100% polyester, this set comes with two signs: One saying "Trick or Treat" and the other saying, "It's October Witches." Easy to install and perfect for blending in well with other Halloween decorations, these signs can also be placed indoor and outdoor!
23. 
Yellow Caution Tape
Perfect for communicating to those close by that there is a dangerous scene and that they must proceed with caution. This set comes with two caution tapes, which is more than enough and is also tear and weather-resistant!
24. Bloody Decoration Supplies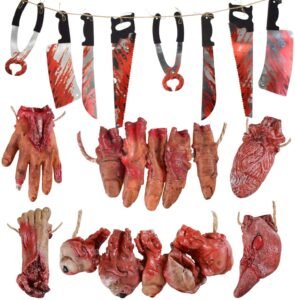 This set of Bloody Decoration Supplies comes with everything necessary to make guests feel this is the scariest Halloween followed with a rapid heart rate! It comes with eight bloody tools and thirteen fake bloody body parts. The best part about this set is it can go to places like the bathroom, kitchen, front yard, and more to create even more suspense!
25. 
Crime Scene Decoration Kit
Here is some more home decor entertainment as we enter the spooky season featuring this "Crime Scene Decoration Kit." Talking about the scary experience, with this collection your house will definitely be remembered and be a Hot Topic when the conversation about the scariest homes pops up.
26. Skeleton Bathroom Door Cover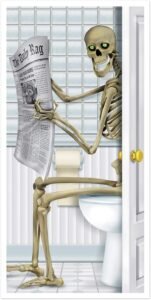 Whether it's a party or just home decoration this "Skeleton Bathroom Door Cover" is perfect for letting guests know where the bathroom. Also, it is great for letting those know what can be going on inside and reminding those why knocking is important!
27. Huge Halloween LED Eyeballs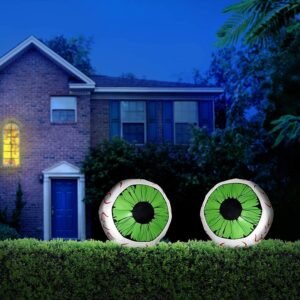 Spooky Season comes with Scary Stares and Spooky Eyes! Staring are these two detailed green eyes that come with blood vessels that make it look even realer!
28. Spider Hanging Egg Sacs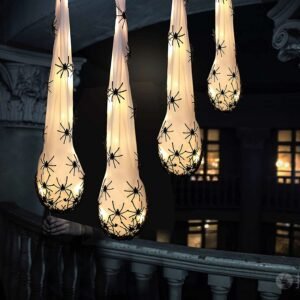 Seeing these Hanging Egg Spider Sacs will not only give people the critters but should make them ponder on how BIG the Mama Spider is!!